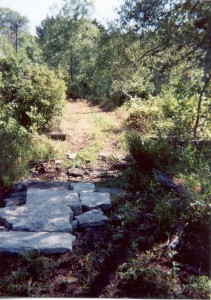 Trail Usage:
Equestrian, Hiking
Trail Details:
The Carnahan Creek Park is owned by the US Army Corps of Engineers, but operated by Pottawatomie County.  The Park is located on the east side of Tuttle Creek Lake off Carnahan Creek Road, which can be accessed either from Highway 16 east of Olsburg or from Highway 13, several miles northeast of Tuttle Creek Dam. This is a primative area with outhouses, no drinking water and no user fees.
The camp loops consist of 5 to 8 miles around the camp, including a road closed to vehicles.  These trails are rocky but generally easy.  Once across Carnahan Creek you can travel north along the "Corps" line for 10 miles to a 2 mile turnaround trail.  These trails are moderate to difficult.  Horses can access water at Sunset Cove, Oak Canyon and  at Garrison.  There is road access to these points also.
When the lake water is high, crossing Carnahan Creek is IMPOSSIBLE.  Please use caution when trying to ford high water.  Normal water pool is 1075.  Anything above 1078 should be approached carefully.  Narrow corridors of  public property have necessitated some steep climbs and narrow trails.  Interesting rock formations can be seen in many places.    Please stay on the trails and off PRIVATE PROPERTY by staying below the yellow US Army Corps of Engineers markers.
Contact the trail coordinator for information about volunteer trail maintenance workdays.
Trail Locator:

View Tuttle Creek – Carnahan Creek Park Trail in a larger map
Current Weather: