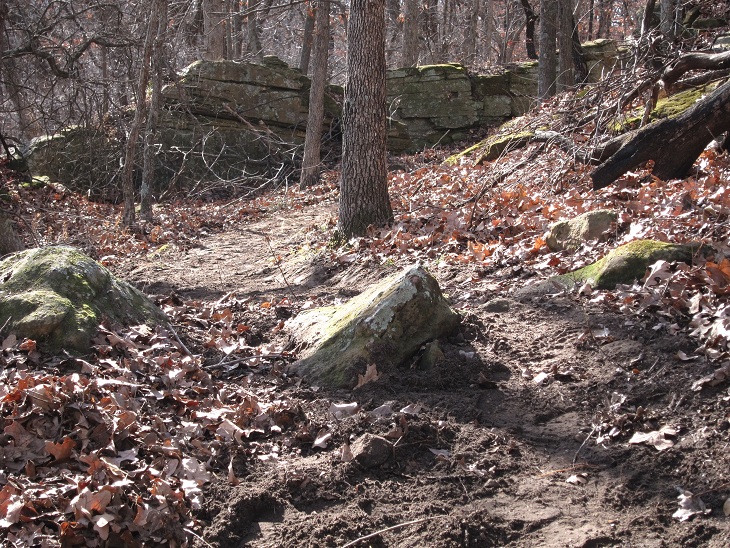 Trail Usage: Hiking, biking
Trail Coordinator: Terry Plenert
Trail Map:
Badger Creek – North
Badger Creek – South
Social Media: Facebook
Trail Details:
Badger Creek Trail
You will find Badger Creek Trail at Fall River Lake, roughly 70 miles east of Wichita and two miles north of State HI Way 400. The GPS location is N 37.41.18.98 W 96.03.40.30. Following the signs directing you to Whitehall Bay Campground, you will find the trailheads located on the east side of the lake along paved Badger Creek Rd. Designated as Hiking/Biking, the South trailhead leads you onto a completed, looped trail of approximately 4.1 miles in length and can be ridden/hiked in either clockwise or counter-clockwise direction. Over varied terrain, the trail winds mostly under a complete tree canopy cover of old-growth Post Oak, Blackjack, Locust and a variety of vegetation in this Savannah; a treed prairie in the area known as Cross-Timbers. The trail flows through a nice mix of trees with large rock formations at intervals for an interesting trail experience that will make you work for short intervals followed by enough recovery to keep it fun. Not too physical, not too technical with some short technical surprises thrown in here and there. And if you want more physical and technical, just pick up the pace, you won't be disappointed. The trail is located within the Corps Public Hunting Area and some discretion of trail use is advised during Firearms Deer Season and Spring Turkey Seasons.
A kiosk and a second trail are located to the north of the low-water bridge on Badger Creek Rd. and this trail is a work in progress. It currently consists of a 2.7 mi. looped trail under the same type of tree canopy. The rocks just get bigger and features the same flowing style and technicality. A plan is set to connect the trail from the south side of Badger Creek with a spur trail to the northern loop for a contiguous trail system that will allow for any number of user options as to length and direction.
Organized work days are ongoing during the late fall and winter months to extend and improve the trail and features for the Badger Creek Trail at Fall River. We welcome those who would like to contribute and learn about trail design and construction of sustainable single-track trails. Those work days will be posted on the KSS Facebook page and the Badger-Creek-Mountain-Bike-Trail Facebook page.  Come on out and take the opportunity to get dirty, or just get out and use the trail, trails improve with use.
Trail Locator:

View Fall River Lake in a larger map
Current Weather: