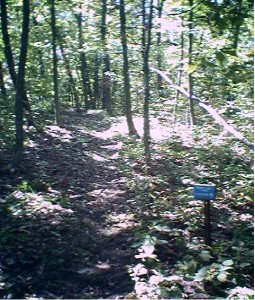 Trail Usage:
Hiking
Trail Details:
The 29 mile Perry Lake Hiking Trail offers a range of terrain and difficulty from easy, gentle slopes in the south to rugged, varying elevation changes in the north. Many folks refer to the Perry Lake area as the "Little Ozarks". A tribute to the beautiful, tree-covered hills that characterize the Delaware River watershed.
Wildlife is abundant in the area and lucky hikers are likely to see deer, turkey, waterfowl, reptiles, small mammals and even the occasional Bald Eagle! There are many places along the trail that offer scenic views of the lake, with some portions very close to water's edge.
Contact the trail coordinator for information about volunteer trail maintenance workdays.  Click here for additional information.
Trail Locator:
View Perry Lake Hiking Trail in a larger map
Current Weather: