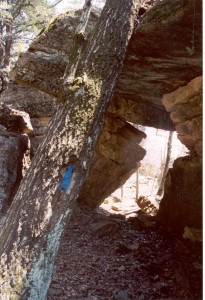 Trail Usage:
Hiking
Trail Details:
The Table Mound Trail is located on the northeast side of Elk City Lake.  The trail is a 2.75 mile point-to-point trail which can be accessed from four trailheads.  The southern-most trailhead is located in the State Park Campground.  The northern-most trailhead is located on the north end of the overlook parking lot.  The trail is intersected by the road near the east end of the dam where there are trailheads on both sides of the road.  The trail has blue blazes (see photo).
The northern sections of the Table Mound Trail skirt the bluff below the lake overlook and provide panoramic views of the valley below the dam to the north and lake views to the south and west. The north end of the trail has some difficult sections as it passes through, under or around many large limestone slabs and outcroppings.
The southern sections of the Table Mound Trail wind gently through oak and cedar groves along the eastern lake shore.  The 2/3 mile Green Thumb Nature Trail is located east of the southern trailhead.
Trail Locator:

View Elk City Lake – Table Mound Trail in a larger map
Current Weather: